ABOUT US

Cerberus Car Club is a longstanding, CAMS affiliated, rally-based Victorian car club.
Cerberus Car Club members compete and official at Club, State, National and International levels.
Check our Facebook page for details of our next car club meeting.  The club has hosted and assisted with rounds of the Australian and Victorian Rally Championship, along with several rounds of the Victorian Club Autocross Series, all very successful and popular events.  This offers the newcomer plenty of chances to officiate and be involved prior to competing.
With many experienced CCC members able to assist newcomers with help and advice to get the most from car, driver and navigator.
Click here for Membership Details
Autocross is a great introductory into dirt-orientated motorsport. Autocross has classes for road going cars to outright specials. There is also a class for the Ladies and for Juniors aged 14-18. Cars don't have to be road registered but must be mechanically sound and have some basic safety features i.e. mudflaps, fire extinguisher and helmet.
Brendan Reeves (along with co-driver and sister Rhiannon Gelsomino), has competed in the World Rally Championship Academy, and was a VCAS (Victorian Club Autocross Series) champion at the age of 16. They currently compete all over the world.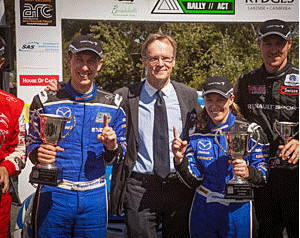 Cerberus Car Club celebrated its 50th year as a Victorian car club in 2014 and our membership is both thriving and growing in numbers. We welcome new members, both experienced and new to motorsport. Contact us today to find out more about Cerberus Car Club membership.